Motor boat «Askold-32»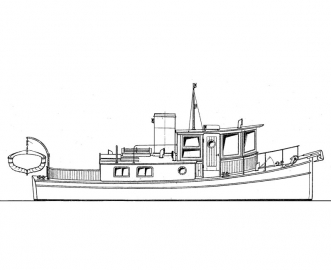 Technical Data
| | |
| --- | --- |
| Length overall (LOA) | 10.0 m. |
| Beam overall (BOA) | 3.2 m. |
| Draught | 0.8 m. |
| Displacement | 5.0 t. |
| Engine power | 43 hp. |
| Speed under engine | 8 knots |
| Sail area | - |
| Places for sleeping | 4 pers. |
| Passengers | 8 pers. |
| Fuel tank | 200 l. |
| Water tank | 200 l. |

Add to compare
/

print
Description:
«Askold-32» is a motor-craft and is supposed to be used as a tourist vessel or a pleasure craft for voyages both on inland waterways and near-shore areas. The vessel is styled on a tug boat.
The hull is made of selected ship construction pine. The boat has laminated longitudinal and transverse framing and single clinker planking. The cape's sides and its roof as well as the deck-house's roof are covered with water resistant plywood which is painted afterwards.
The motor-craft is supplied with the following: the forward cabin with two pieces of sleeping accommodation and two lockers, the pilot's cabin, and the lounge with two sofas and a table. The sofas are supposed to be used as pieces of sleeping accommodation. The cook galley, the boat toilet and the hearse are found at the fore of the lounge. The hearse fire flue is joined with the fiddley found on the cape's roof. The ample cockpit supplied with two sofas and a folding table is found astern. The 43 hp inboard diesel engine is installed under the cockpit.
The vessel is equipped with a marine toilet, gas oven, two sinks, fresh and outside water system supplied with foot pumps, drainage system with manual and electric bilge pumps, and the forced supply ventilation system of the marine toilet, cook galley and engine compartment. The oil tank, fresh-water tank and sewage tank are found under the deck-house foot lings.
The motor-craft is navigated from the deck house with the help of the steer wheel and the hydraulic steering gear.
The anchor handling equipment includes the plow anchor, manual anchor windlass, anchor cable and the chain well.
Electrical facility includes two accumulator plants, inside lighting fittings, navigation lights, the electric service panel, the charger and the land-based power cable.
According to the customer preferences, the boat can be supplied with navigation equipment as it is not included into the standard configuration of the motor-craft.
According to the customer preferences, a more powerful (up to 90 hp) engine, an electric anchor windlass, heating arrangement etc. can be installed. The hull structures and the motor-craft fashion can be made of oak.