Ship boats. (YAL-2, YAL-4, YAL-6)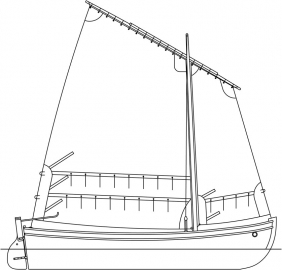 Technical Data
| | |
| --- | --- |
| Length overall (LOA) | 6.1 m. |
| Beam overall (BOA) | 2.0 m. |
| Draught | 0.6 m. |
| Weight | 600 kg. |
| Sail area | 20.4 m2 |
| Oars | 6 pcs. |
| Passengers | 10 pers. |

Add to compare
/

print
Description:
Boats of this type have more rigid structure, that is more suitable for severe operating conditions.
Boats of this type are made in accordance with typical construction sketches published in the Guide on Smaller Crafts by Y.V.Yemelyanov and N.A.Krysov (Sudpromgis edition, 1950).
Boat body is made of a selected ship construction pine and clinker planked with copper studs. All metal parts are made of construction steel. All parts are attached with galvanized bolts and screws. From the outside the boat body is grounded with red lead and covered with enamel. From the inside the boat body is impregnated with natural boiled linseed oil and covered with varnish. Steel parts are also have epoxy covering.
Sailing boats are normally equipped with double-bank oars, a rudder with a straight metal tiller and sailing accessories such as a mast, a whoop, a lath, a standing rigging made of steel galvanized rope and a sail made of synthetic fabric.