Two-masted sailing schooner Grumant-58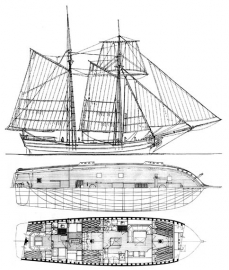 Technical Data
| | |
| --- | --- |
| Length overall (LOA) | 19.4 m. |
| Beam overall (BOA) | 4.7 m. |
| Draught | 2.3 m. |
| Displacement | 50.0 t. |
| Engine power | 145 hp. |
| Speed under engine | 9 knots |
| Sail area | 245.0 m2 |
| Places for sleeping | 10 pers. |
| Passengers | 20 pers. |
| Fuel tank | 1500 l. |
| Water tank | 1500 l. |

Add to compare
/

print
Description:
«Grumant-58» was designed as a sea tour boat, that should look like an ancient styled one and ensure modern safety and comfort.
Two small post delivering boats of the late XVIII century by a famous Swedish ship builder Chapman were selected as a pattern for this boat. However modern requirements for durability, comfort and navigation properties were applied as main ones for construction of this boat.
All parts of sailing and deck accessories were accomplished in accordance with original schematics but taking into account how far they can be applied in modern conditions. Besides, it is possible to use modern yacht equipment (electrical yacht windlass, sheet hoists etc.) that does not influence the ancient style of the boat.
At this point there are 5 boats constructed under this project. Since 1992 the boats have proved the safety of using them in any weather conditions as well as being good for tourist sea tours.
The body is made of wood, mainly of oak and selected pine on laminated longitudinal and transversal frames and with one layer carvel planking. The body is assembled with brass screws and steel bolts with galvanized covering. To ensure floatability, the boat is equipped with watertight bulkheads partitions to provide four sections.
The boat is divided into two living areas: boat crew and passenger areas.
There is a 4 place crew's headquarters, crew's latrine and a pilot place in a stern. The engine room is also located in the stern part.
There are four double rooms in the central part of the boat, spacey saloon, galley and a latrine. There is a shower cabin in each latrine to comply with requirements of the international convention.
There is a forepeak in a prow part of the boat, that is used for storing of boat accessories.
The boat interior is of XIX century style and made individual for each boat, but can be modified at customer's request.
There is a water supply system for fresh water (hot and cold), an outboard water supply system and a drain system.
The boat is controlled from the upper deck with a tiller or a hydraulic driven or a steering chain driven control.
The anchor set includes a chain box, an electric windlass, a plow-type anchor, as well as two admiralty anchors with wooden stock, a manual wooden windlass, typical to ancient boats, manufactured in compliance with ancient schematics.
A sail, that is of 245 m2, is effective enough to provide acceleration up to 9 knots. The boat is excellent for control under the sail. The rigging is made of natural sisal and manila ropes, a sail is made of synthetic fabric. Three people is enough to control the boat. 15 ton ballast provides stability in accordance with modern requirements.
The electric system includes two accumulators, house and navigation lights, an electric switch board, a charger and a power supply cable for power supply from the land. There is an additional 12V power net in addition to existing 220V.
We can provide navigation accessories at customer's request.
«Grumant-58» may be equipped for study trips.